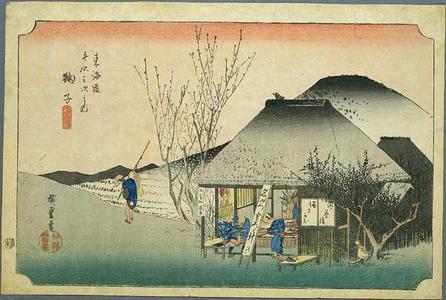 Mariko, Tokaido Station #20, Hiroshige, 19C
One of the great mysteries of Hiroshige's Tokaido 53 Station series is, what is the purpose of the pole being carried away by the traveller in the left hand side of the image? Too long for fishing apparently, and not a walking stick by the way it is being carried.
There is no mystery however about the two characters enjoying bowls of yam soup (tororojiru) at the front of Chojiya teahouse. They are unmistakebly in the form of Yaji and Kita, two proponents of a Tokaido comic novel by Ikku published around 1082. In his Mariko print, Hiroshige also gives a nod to 17C century poet Matsuo Basho who famously penned a verse about yam soup. Tororojiru then became a must-eat dish at Chojiya to give travellers stamina to cross the Utsunoya Pass.
Mariko has been a post town since the first Shogun, Yoritomo, granted the area to local warriors in 1189. Chijoya was established as a teahouse there in 1596. In 1601, Tokugawa, who established Edo as Japan's new capital, introduced the post horse system whereby elite and urgent travellers could exchange tired horses for fresh horses at frequent intervals along Tokaido. This encouraged Mariko's rapid development as a post town, busy with couriers, feudal lords, and travellers.
The current Chijoya is a 1970s reconstruction of the Edo Period building which sadly was demolished only 20 years earlier as part of Japan's post World War II rapid economic development.
Mariko is not included in the standard Tokadio Tour, however customised tours can be arranged on request. tonyeveritt@tokaido.blog